Its been quite a while since I last had the opportunity to explore Rome by myself, on foot, and with no students in tow. Now, don't get me wrong, I love teaching on site and find that taking students around a location I love gives quite a different energy to visiting a historic site, but for me, this needs to be balanced with the opportunity to prepare such a trip by going it alone.
And, as luck will have it, such an opportunity presented itself when I was asked to give a lecture at the British School at Rome. My lecture, on Jacopo de' Barbari's View of Venice was the Annual Society for Renaissance Studies/British School at Rome partnership lecture, and such a big honour and great deal for me, that in an uncharacteristic burst of over-preparedness, it was written and sorted before leaving for Rome. Which left me almost exactly 48 hours in which to prowl Rome and explore, in which to drift through neighbourhoods and visit churches and museums, on my own, with my camera in hand. This time, no need to talk, and just the opportunity to look.
Looking while walking, and walking while looking, has to be one of the greatest pleasures for any art historian, and really, I saw so much more because I wasn't looking for anything in particular. I admit to having my trusty old copy of  the suitably named Augustus Hare in the bag, but that was my only guide as I set out to explore the city from memory. The plan was to use my first day in Rome to explore St. Peter's, and in particular climb the dome (again, something I have never done before), and then use the morning of the second and final day to delve into the civic centre. That plan was thwarted though, and by none other than His Holiness, Papa Francesco himself. I had inadvertently walked into the middle of a papal audience on St. Peter's Square! The square was closed off, there was heavy police presence everywhere, and both the cathedral itself, but also the ascent to the roof of St. Peter's remained closed.
As somebody who spends much time teaching on space, performance and ritual, watching a papal audience in full swing was a fascinating and enthralling experience. The popemobile drove slowly along a predetermined route through the crowds who lined the perimeter of the route, meandering back and forth in such a way as to give as many people as possible access to the Holy Father. He blessed children, he accepted gifts, and there was a real sense of celebration on the square. Papa Francesco certainly knows how to wow a crowd, and his every move was photographed by thousands of visitors to the square.
So, I eventually prised myself away (partly that was due to the rain that had started lashing down), and where my first attempt at climbing Michelangelo's superb dome had been thwarted, consolation awaited, in the form of Raphael's frescoes for the Villa Farnesina. Where St. Peter's Square was all crowded, I pretty much had the Farnesina to myself….
What I love about Rome though, more than anything else, is the sense of walking through a palimpsest, of seeing history in layers, in wonderful and often unexpected juxtapositions. Raphael's wonderful frescoes, concerned with visualising the great Olympian Gods, are startling, surprising and bold when you see them on images in a classroom. In Rome though, they make perfect sense. The only conceivable response of a great Renaissance artist, surrounded by the material and visual debris of classical antiquity, is to paint the way Raphael did, and I would certainly argue that my reading of his 'genius' as an organic response to his surroundings does in no way diminish his achievements.
Just twenty minutes walk away from the Renaissance heaven of the Farnesina was just one of these evocative places Raphael responds to in his images, my final 'destination' for the day, maybe my favourite churches of them all in Rome: the wonderful, beguiling Santa Maria in Cosmedin.
This little gem of a church can in many ways demonstrate everything that makes Rome such an essential part of any art historian's itinerary; it is nothing less than a microcosm of the macrocosm of Rome's historical palimpsest. Originally a temple dedicated to Hercules, it becomes a sanctuary, and then gets expanded into a medieval church, gets a swanky bell tower, and finally achieves iconic tourist destination status thanks to 'Roman Holiday' and a certain drain cover in its portico…. And yes, before you ask, I DID pose for 'that' photo. It had to be done.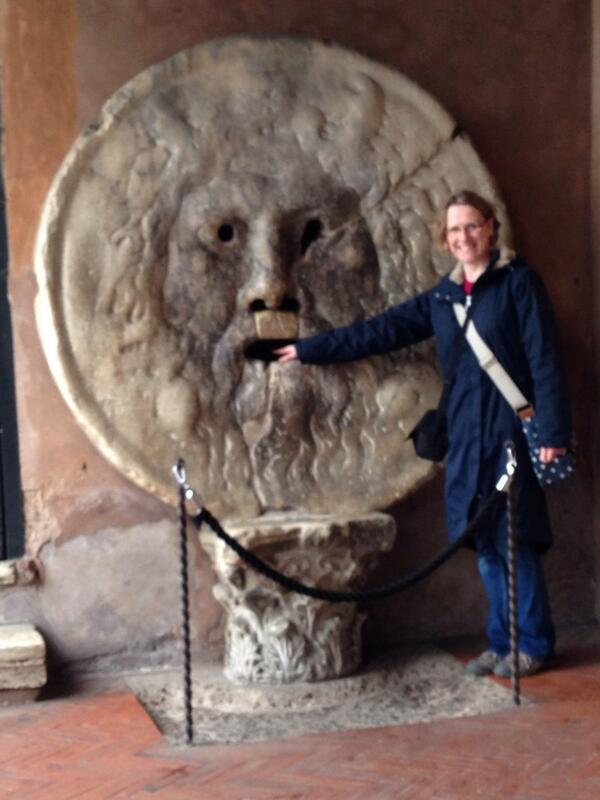 But, there is such a thing as too much fun for one day. Duty called, and it was time to deliver that lecture.
To be continued.
For a look at the images that document my 48 frantic but fabulous hours in Rome, click
here.